6.01.2010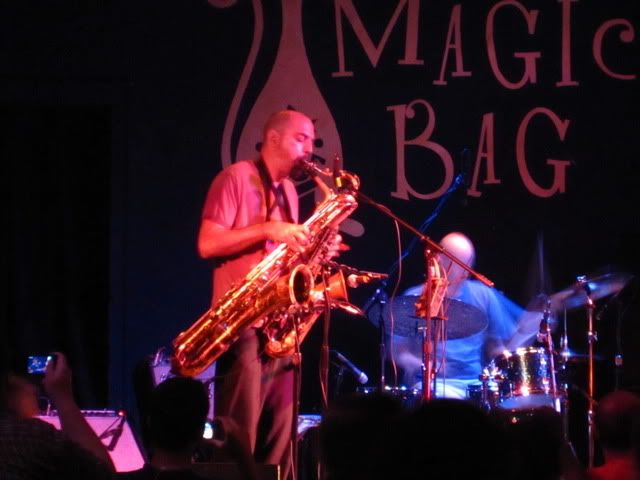 MEMBERS OF MORPHINE
aka
THE [ever expanding] ELASTIC WASTE BAND
@ THE MAGIC BAG
May 28, 2010
pretty skeptical going into this show. wondering how this would be without the late great Mark Sandman... and it was quite enjoyable. it took the crowd a few songs to really start feeling the vibe. 2/3 of their set were morphine jams and the other third was new originals [and perhaps a cover?]. Dana Colley and Jerome Dupree were quite comfortable jamming the old tunes with Jeremy Lyons. Dana made sure to give Mark his due credit after every morphine tune they played. the EWB material was good and it fit inside the morphine set. i would recommend any fan of morphine to check out this lineup. i will tell you one thing though. the magic bag SUCKS. i have been to about 500 shows spanning over a decade and a half, and i rate this venue with the bottom-of-the-barrel. notoriously bad sound. [luckily the band brought their own engineer on tour] totally over-staffed. and it seemed like everyone who works there had an ice pick shoved in their rectum.
setlist:
[i'm not sure of the names of the EWB tunes so i'm just going to put 'EWB song' instead of the title. if anyone has the info please contact me and i will update the setlist]
have a lucky day
the other side
claire
scratch
pulled over the car
head with wings
let's take a trip together
EWB song
EWB song
EWB song
EWB song
EWB song
honey white
shelia
thursday
all wrong
yes
wishing well
radar
buena
Posted by

rickker
at 8:22 PM
No comments:

before i post a few more updates... just thought i would remind ya'll that the latest epic masterpiece from the melvins is out today on ipecac records.
THE BRIDE SCREAMED MURDER is their 19th-ish-or-so album. and the third with the current melvins / big business lineup. their US tour also kicks off tonight in san diego. you can catch them when they roll though hamtramck later this month at smalls. this show WILL sell out.
also i found out that one of my favorite albums of all time is getting a nice treatment from the vinyl gods over at warner bros records.
FAILURE - FANTASTIC PLANET
i don't have much info on the release but it will be a 2 x LP [hopefully 180 gram] and will be released on june 8th. that's next tuesday slick!
Posted by

rickker
at 7:56 PM
1 comment: